There are a number of beautiful beaches in Batangas that are just a few hours' drive away from the city. When you have a stressful week or tiring days one thing you tell yourself is to have a break. Taking a time off and heading to the nearest beaches from the metro will surely take your stress away. One of the nearest places you can enjoy the beach can be found in the province of Batangas.
Batangas is a popular beach destination that is very much accessible for a quick weekend getaway. Batangas beach is rich in bio diversity that is best explored thru different water activities such as snorkeling, scuba diving, and even island hopping.
Beaches is always a good place for you to take a moment and relax your mind. Hearing the waves crash by the shoreline has a beautiful symphony that can give you peace and tranquility. If you want to escape the hustle and bustle of the city and just have a relaxing weekend this is the best beaches in batangas near you.
1. Sepoc Beach Center
Sepoc beach center is surrounded by the beautiful colors of nature that will surely make you feel like you're in paradise. You will be serenaded by nature with the birds humming around, the sound of the trees dancing with the cool breeze and the cashing waves from the ocean. There you can experience a luxurious private beach feeling because it is exclusively for the resort's guest only. The beach is surrounded by white sand and a rare tree called by the locals as Sepoc Tree thus the name of the place.
There are a number of different activities you can experience at the beach from hiking to snorkeling and even to team building activities that you can enjoy with your friends, family, and workmates. You are able to access this beach center when you book a room or a day tour at Eagle Point Beach and Dive Resort. The resort offers a number of different water adventures that can wake up the trill seeker in you. With the rich biodiversity that surrounds the area scuba diving is one of the activities you can enjoy just right in front of the resort. The resort also house a restaurant that serves a variety of cuisines that is best paired with your favorite mix drink.
Plan a getaway that both beach bums and water sports enthusiasts will love at https://eaglepointresort.com.ph/.
For on-going promos and packages CLICK HERE!
Make your reservation now!
2.  Tali Beach
Tali beach is located in a private seaside community in Nasugbu Area. This beach has a high market for millennials that is up for a little trill of cliff diving. Though this beach is accessed through a private residential area you can enjoy this beach if you book an accommodation from different booking sites.
Image courtesy of Snippet Media
3. Calatagan Beach

One of the famous beaches in batangas, Calatagan beach houses different accommodations that you can enjoy with your family and friends. Just a few hours drive away from manila you can enjoy the comfort of this long sandy beach. This is a perfect destination where you can enjoy grilled food which is perfect for a beach getaway.
Image courtesy of The Poor Traveler
4. Manuel Uy Beach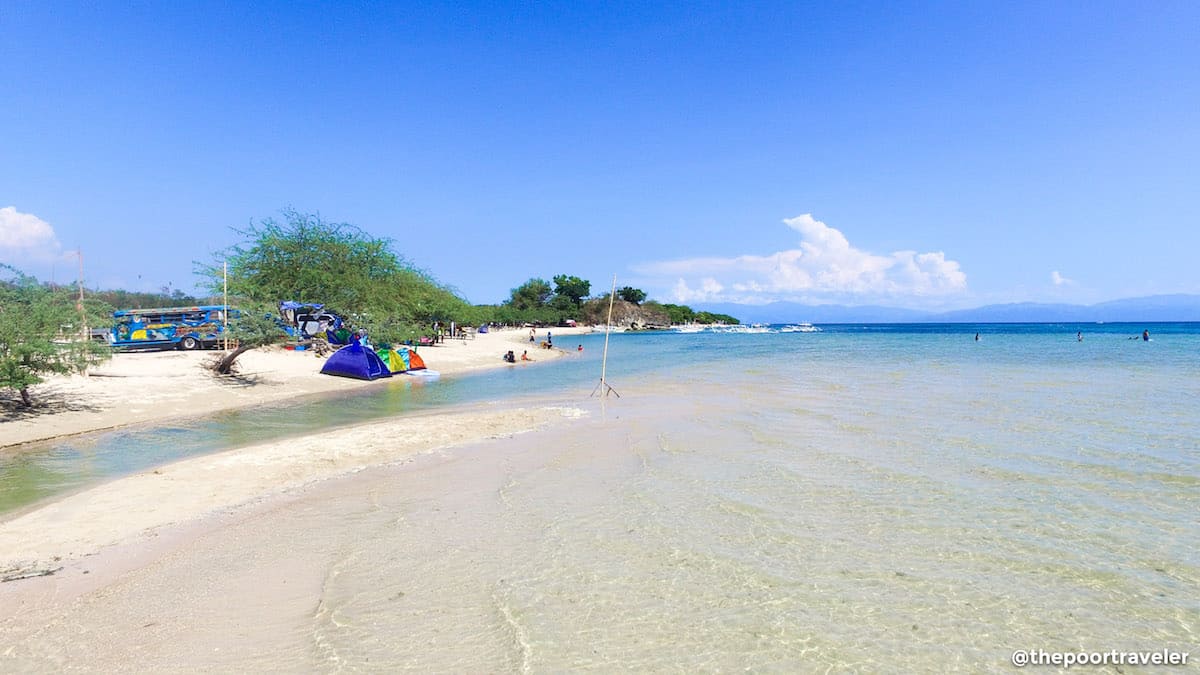 A signature of Calatangan beach, Manuel Uy beach has a shallow crystal clear ocean water that covers the soft white sand. This is one of the beaches in batangas that is not well-known to the public but it is just located in one of the beautiful beaches of Calatangan, Batanags.
Image courtesy of The Poor Traveler
5. Bituin Cove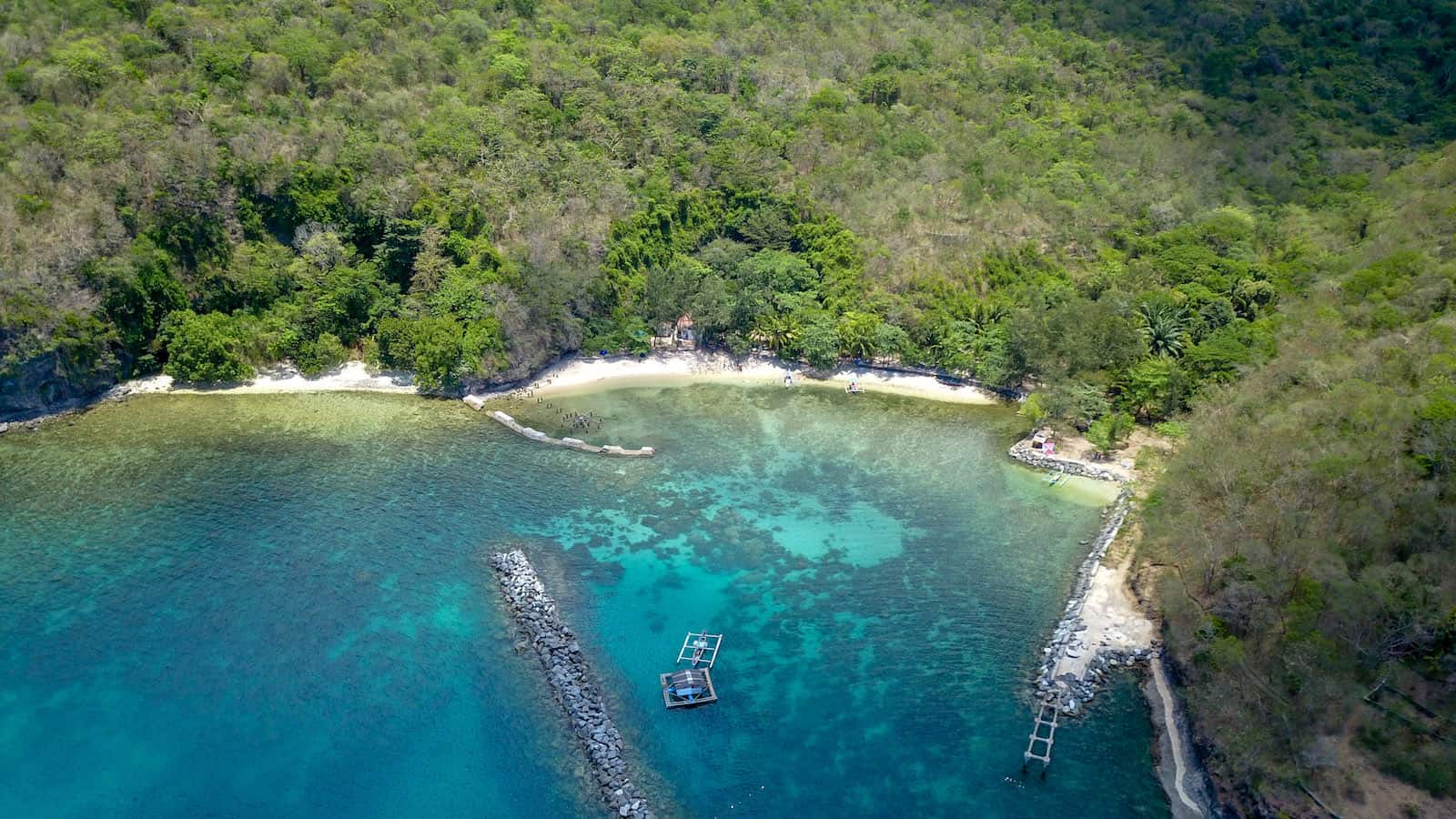 Bituin cove or also known as the Angara cove is a quiet and affordable beach destination that can be found near Nasugbu, Batangas. You can enjoy a noise free day at this secluded beach away from the busy city that you are used to everyday. This is a perfect place to just catch a reading or to just get your mind of things.
Image courtesy of The Poor Traveler
6. Malabrigo Point Beach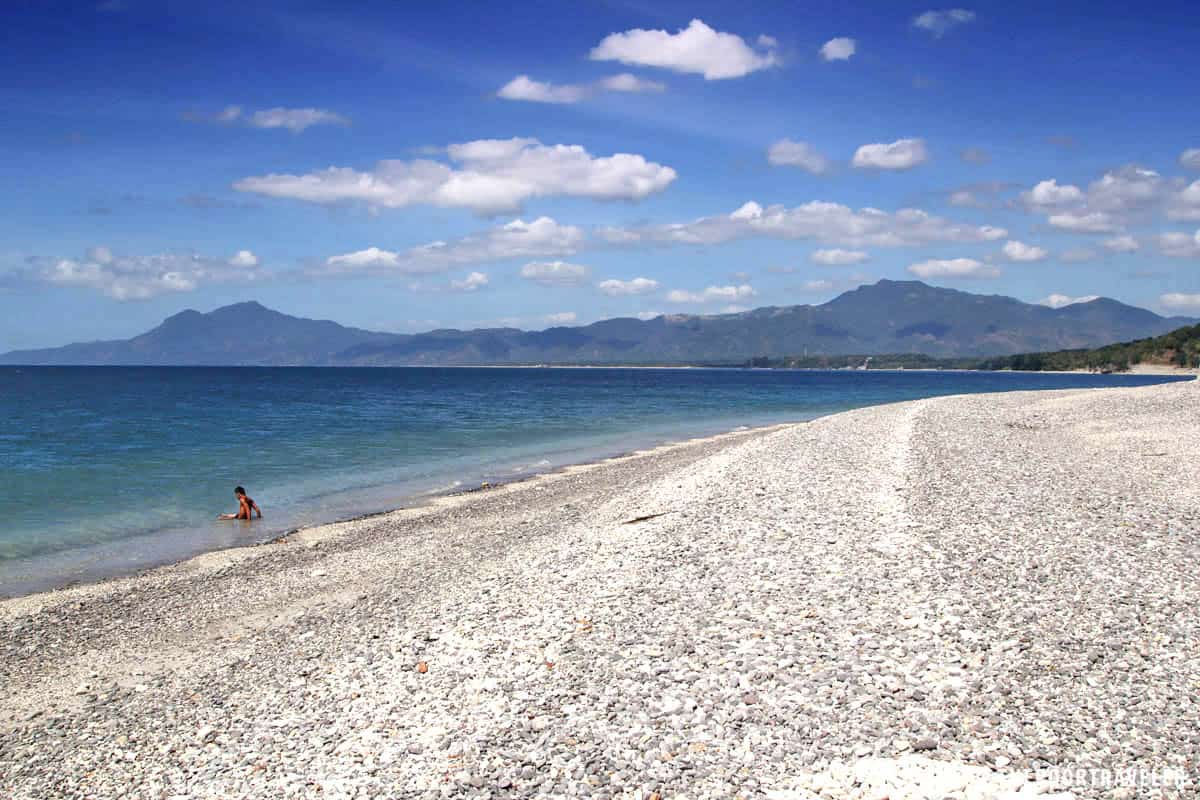 Surrounded by rocky shore, Malabrigo Beach is a peaceful destination for beachgoers where you can camp and just spend a relaxing afternoon.
Image courtesy of The Poor Traveler
7. Nasugbu Beach

One of the well-known beaches in batangas is Nasugbu beach because it houses a number of different resorts. The beach is very much accessible since it is near the town proper of Nasugbu, Batanags. It is also a gate way to one of the famous destination in Nasugbu which is the Fortune Island.
Image courtesy of Booking
8. Hamilo Coast

Hamilo coast is one of the private beaches in Batangas that is accessible when you stay at Pico de loro. It is one of the developed beaches that the residence enjoys.
Image courtesy of Hamilo Coast
9. Santelmo Cove

This beach is a marine sanctuary that sea turtles nest their eggs during nesting season. If you are lucky you can even witness baby turtles making their way back to the open sea.
Image courtesy of Tribune.net.ph
10. Fortune Island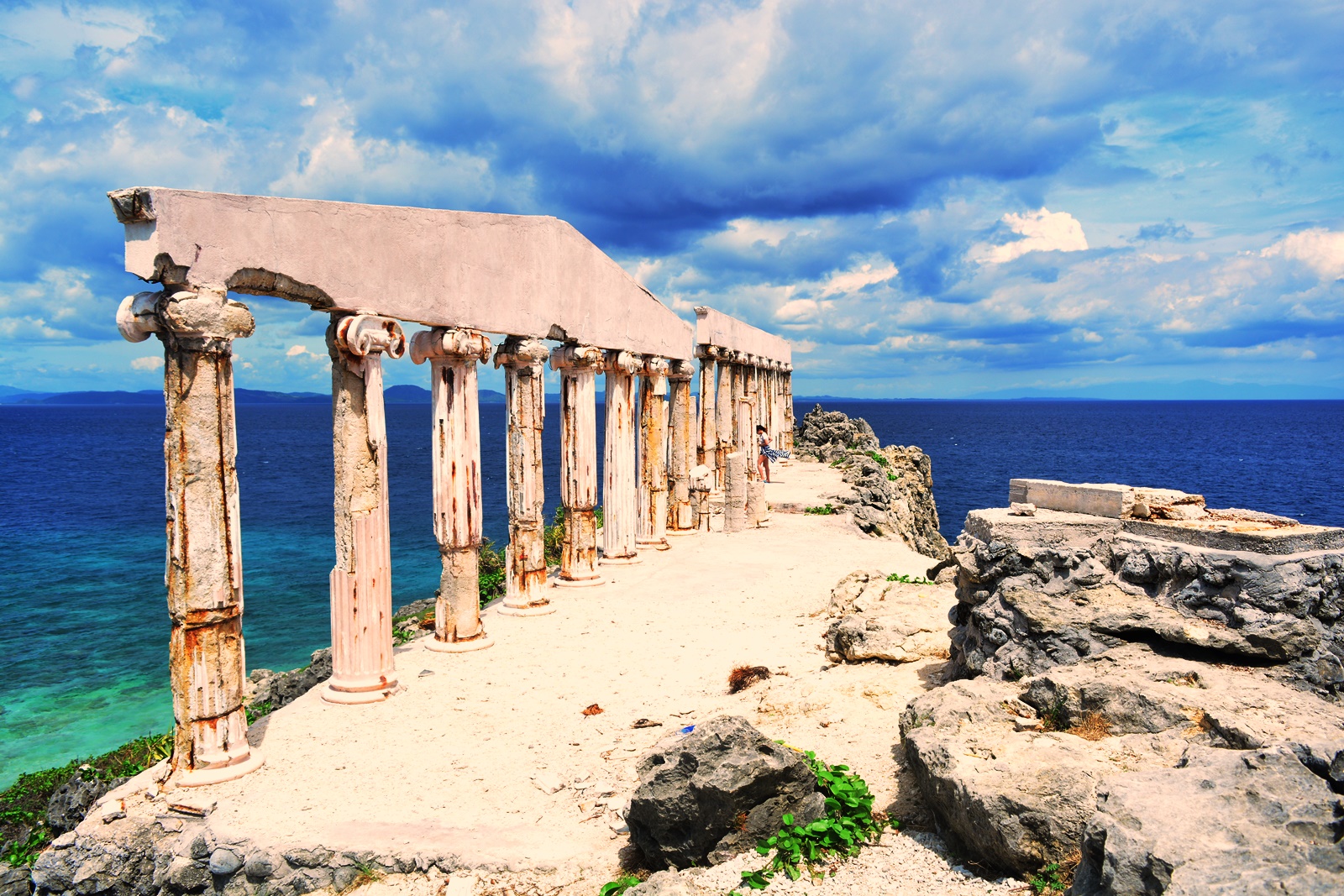 Located in the off coast town of Nasugbu, Batangas, Fortune island is a small yet gorgeous island that is full of interesting mystery. The beach is accessible via a boat ride form the main town of Nasubgu, Batangas. You can find ruins at the beach at will bring you back to Greek mythology because of the pillars of an old structure that was once on the island.
Image courtesy of awanderfulsole.com
11. Calayo Beach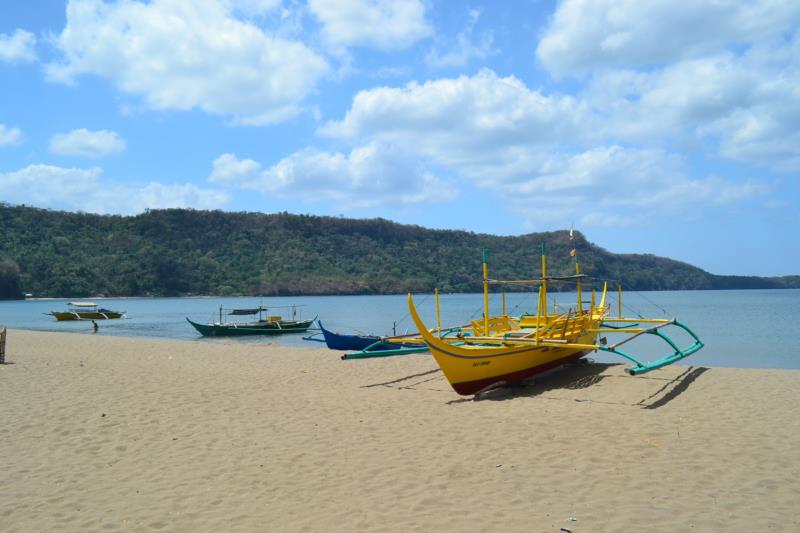 There are a number of beach located in Nasugbu, Batangas but most of the beautiful beaches are covered by private resorts and residential areas. Fortunately, Calayo beach is one of the beaches that is open to public use. It is a fishing village that is now growing to be a beach destination for beach goers.
Image courtesy of Take The Travel
12. Laiya Beach

A long stretch of shoreline covered with fine white sand, Laiya beach houses different resort that you can stay in. You can also enjoy the long shoreline especially if you would like to have a relaxing weekend without all the worries of the busy city. However, if you would like to catch a little more adventure you can also check out Mt. Daguldol which is quite close to the beach.
Image courtesy of Primer
13. Isla Verde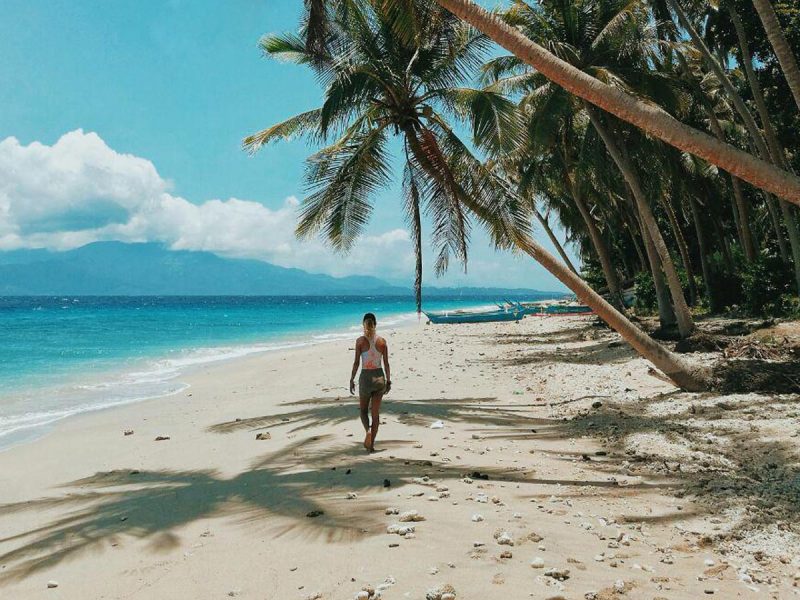 Famous for a number of diving sites and beautiful coral reefs, Isla Verde, is the perfect place for snorkeling and diving. The area is surrounded by rocky shores and crystal clear ocean water. It is accessible via boat ride coming from the main town of Batangas City.
Image courtesy of Philippinebeaches.org
14. Burot Beach

Beachgoers take refuge at Burot beach because of its shallow and clam ocean water. This beach is located in one of the coves that surrounds Calatangan, Batangas. It may not have a fine white beach but the beach will give you a good relaxing vibe. However, this beach is currently closed for a private development.
Image courtesy of Calatagan.gov.ph
15. Matabungkay Beach

Known for floating rafts or "balsa", Matabungkay Beach is best for enjoying a lazy afternoon floating in your own cabanas. The sand is not as pure white as the other beaches in Batangas but you are sure to be mesmerize by the sound of the waves crashing and the cool breeze around. Matabungkay Beach is located in Lian, Batangas which is only a few hours away from Metro Manila.
Image courtesy of Agoda
16. Mahabang Buhangin

The name of the beach literally translates to how it looks like because of the long stretch of white beach that covers the area. The beach is best for couples because of the romantic vibe it emits. The sound of the waves crashing to the shoreline is the relaxing sound you will hear all throughout the beach.
Image courtesy of Travel Eat Pinas
17. Majuben Beach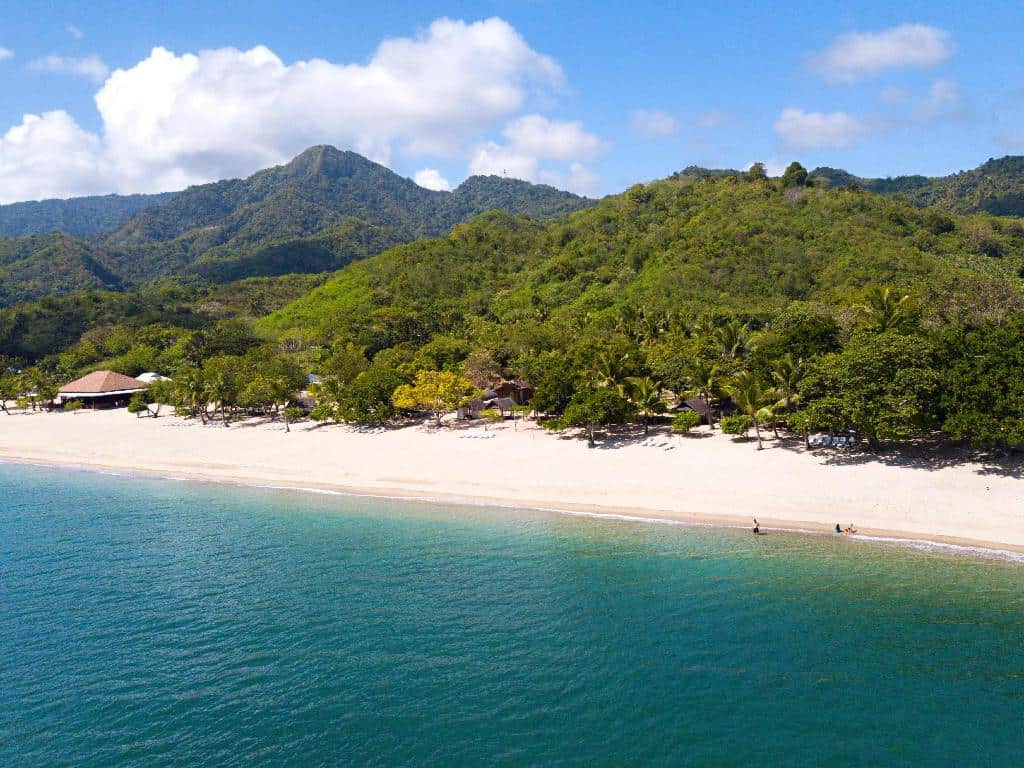 A destination best suit for family and friends, Majuben beach is surrounded by rocky shores, a number of tall trees and a beautiful blue ocean water.
Image courtesy of Google Images
18. Bauan Beach

Bauan is not very well known to many but this small town is home to a beautiful stretch of beach and resorts that you can enjoy with your family and friends.
Image courtesy of crislumanglas.tumblr.com
19. Lobo Beach

Located almost at the south end of Batangas, Lobo beach is a rocky beach that is filled with different pebbles and pieces of corals that wash up at shore. Despite the rocky beach this is a beach destination that houses a beautiful light house that travelers go to.
Image courtesy of dextograph.com
20. Masasa Beach

Covered with white sand beach, Masasa Beach was once called the boracay of the north due to the beautiful fine sand that surrounds the area. You can find cheap accommodations at the beach or you can simply pitch your own tent. Going to the beach you will need to board a boat from the Anilao Port in Mabini. Batangas.
Image courtesy of Wikimedia
21. Sunset Beach
Image Courtesy to Tripadvisor
Sunset beach is the perfect place to watch the sun set in Nasugbu, Batangas. This beach is famous for group of friends to hang out and have a chill and lazy afternoon.
22. Sombrero Island
Image Courtesy to The Pinay Solo Backpacker
Located in the near Balayan Bay in Mabini, Batangas, This island is surrounded by white sand beach and beautiful coral reefs. This island is famous for snorkeling and a spot for divers as well.
23. Anilao Beach
Image Courtesy to philippinebeaches.org
Known for that destination for Diving spots, Anilao beach is the entry way to different destination in Mabini Batangas. This following destination are different resorts around the area such as Eagle Point Beach and Dive Resort, famous dive spots and island hopping as well.
24. Virgin Beach
Image Courtesy to Agoda
Located in San Juan, Batangas, Virgin Beach is a long white sandy beach where you can your family can relax and unwind. The long beach also houses different resorts and home stay that you can stay at when you visit the area.
25. Pico De Loro Beach
Image Courtesy to Hamilo Coast
A private beach, Pico De Loro beach is accessible to many by staying in one of their hotel rooms. There are a number of activities you can enjoy in the area. The main beach is enclosed in one of the coves in Nasugbu, Batangas where you can relax with your whole family.
******
Thank you for reading!
You May Want To Watch All The Episodes of Pantaxa Season 2
Like us on Facebook!!
→ check  Accommodation Availability